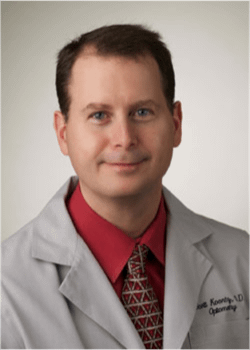 B. SCOTT KOONTZ, O.D.
Dr. Bryan Scott Koontz joined Magie-Mabrey Eye Clinic in 1999. A native of Morrilton, Dr. Koontz attended the University of Central Arkansas and graduated in 1995 with a B.S. in biology. He then attended Southern College of Optometry where he received his doctorate Magna Cum Laude in 1999. He specializes in primary care optometry, with emphasis in pediatric patients, contact lenses, and treatment of ocular disease.
Dr. Koontz volunteers at the Conway County Christian Clinic in Morrilton. He is member of the American Optometric Association and Arkansas Optometric Association, as well as the Low Vision Section of the AOA. Locally, he is a member of the Conway Noon Lions Club.
Dr. Koontz lives in Plumerville with his wife and children. Dr. Koontz interests include church activities, golf, fishing, hunting, photography, and Razorback athletics.
He sees patients Monday through Friday 9:00 a.m. to 5:00 p.m. in Conway. Please call 501-327-4444 if you wish to schedule an appointment.